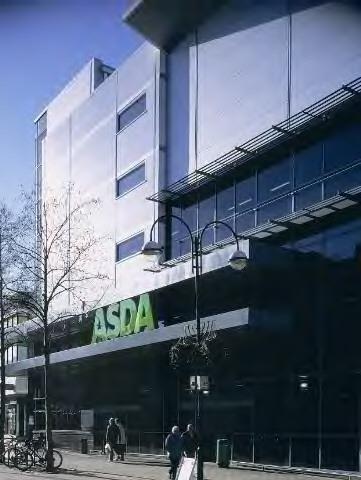 The design for this 8000sqm ASDA Superstore 'located on a prominent High Street site' was developed for Box Developments in August / September 2001. The urban setting and nature of the scheme were the first of its kind for ASDA who already have a well-established concept for warehouse-type stores with adjacent parking.
The building comprises of the ground level retail and ancillary spaces, office accommodation on the mezzanine level, and three levels of car parks above, with the capacity for over 500 vehicles. Pedestrian access to the car park levels is achieved via four sets of travelators, situated in the glazed atrium at the front of the building, and two stair / lift cores on either end of elevation facing the High Street. The vehicle access and exit from the car park and the delivery yard are situated at the rear of the building, which backs on to the main traffic route.
The scheme was taken up to the planning stage, and has been developed in association with MAA architects. The store was open at the end 2003.